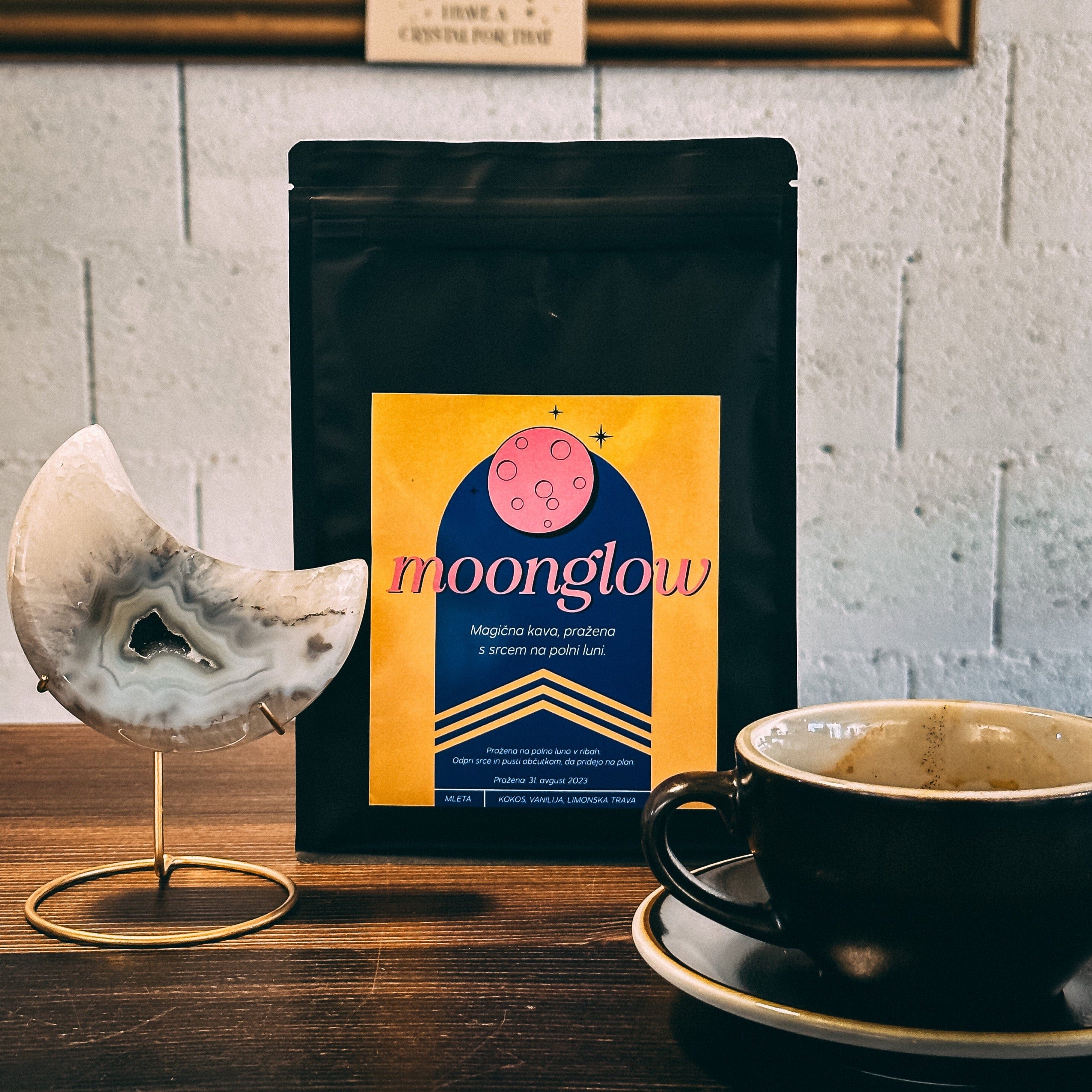 Moonglow Kava
Vsebnost Kofeina:
Brezkofeinska
Pickup available at Your Soul Time Skladišče
Usually ready in 24 hours
Moonglow Kava
Mleta / Brezkofeinska
Your Soul Time Skladišče
Pickup available, usually ready in 24 hours
40 Litostrojska Cesta
1000 Ljubljana
Slovenia
+38631697994
Jutranji ritual v skodelici kave.
To ni zgolj še ena kava, ki jo zjutraj v polsnu zvrneš vase in tečeš naprej. To je izbrana kava, pražena s srcem na polni luni za okusno skodelico jutranjega rituala.
Zrnja kave Moonglow so skrbno izbrana in pražena izjemoma na polni luni, kar doda kavi novo dimenzijo. Vsak požirek je magičen ritual, ki te napolni z novo energijo za uspešen in čaroben dan.
Kava prihaja v sodelovanju s slovensko mikropražarno Banibeans, katero vodi strast za ustvarjanje najbolj okusne kave. Luka, obraz Banibeans, si še posebej prizadeva za pridobivanje trajnostno pridelane kave.
Ker imamo radi našo naravo, lahko ostanke kave ponovno uporabiš na naslednje tri načine:
Dodaj manjšo količino v zemljo k rastlinam - ostanki kave delujejo kot gnojilo.




Uporabi jih v ritualih ali urokih - kava pomaga pospešiti želen rezultat uroka.




Ostankom kave dodaj kokosovo olje in sladkor ter mešanico uporabi kot piling za telo. 



Naj kava postane tvoj najbolj čaroben ritual!
Tokrat je kava pražena na polno luno v biku: Prepusti se kreativnosti, ki se skriva znotraj tebe.
Lastnosti izdelka:
Neto teža: 250 gramov mlete kave ali kave v zrnju,
Za YST Group d.o.o. polni Martina Bergant s.p.
Lastnosti kave s kofeinom:
Izvor kave: Kolumbija,
Botanična sorta: Caturra.
Lastnosti kave brez kofeina:
Izvor kave Kolumbija,
Botanična sorta: Red bourbon.